Proclamation by LPNABC – May 13th LPN DAY
Each year LPNABC has submitted a letter to the Ministry of Justice department requesting May 13th be retained and proclaimed as "LPN Day" which has been held by BC government for over 2 decades as LPN Day.  It is so important to uphold tradition and ensure that LPNs across BC and Canada hold onto a day of recognition for their special profession.
LPNABC is proud to continue and maintain the proclamation for LPN Day and on behalf of LPNABC board members and memberships I wish every LPN across BC the very best on May 13th LPN DAY!!
Sincerely,
Anita Dickson, President, Jag Tak, 1st Vice President, Michael Young, 2nd Vice President, Brenda Childs, Treasurer and Esme Clarke, Secretary for LPNABC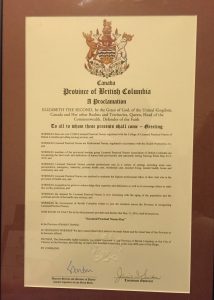 It was a wonderful event on April 6th!  On behalf of LPNABC Board we would like to extend huge appreciation to New Vista Care Home, management and board for the warm welcome as our host site for our 65th Anniversary Event.
We would like to especially acknowledge Suzanne Johnston, for her "Above & Beyond" care and warm welcome to New Vista that made our event the best it could be!  Thank you so much for everything.
LPNABC Board and Members