On Monday April 13th, the LPNABC held the annual AGM. We were delighted to have keynote speaker Dan Levitt, MSc.,CHE. with us. Dan is an Adjunct Professor in Gerontology teaching Long Term Care Administration at Simon Fraser University. Dan shared with us his work and passion for the residents of Tabor Village in Abbotsford. We all enjoyed his inspirational presentation.
Following Dan's appearance, we moved forward with our AGM. This included the election of Daina Dumont to the 2nd Vice position and Anita Dickson for her second term as treasurer. We also announced the winners of the LPNABC Education Bursary of $250 each to the following: Min He & Barinder Gill, both students and full members Melissa Austin & Rowena Dacanay. This award is drawn from the general membership of the LPNABC. The hope is that this award will assist the winner is gaining additional education in their profession.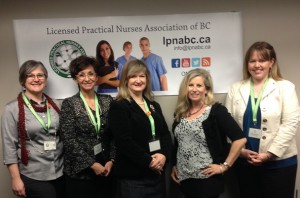 It was also announced at our AGM that the LPNABC is now a proud member of the BC Care Providers Association. BCCPA is the leading industry association representing private and non-profit care providers. The LPNABC welcomes the opportunities this association provides for connecting with LPNs in these sectors.
Comings and goings of the LPNABC include the follow –
Meeting with ARNBC Board for future collaborative opportunities
LPNABC AGM
Meeting with the Ministry of Health Staff regarding LPN Utilization
Meeting with MoH regarding Professional Associations Policy Paper Discussions
PN articulation meeting with the PN Nursing Schools of BC
Meeting with BCNU
Nursing Week events at the BC Legislature
BC Care Providers Conference
ARNBC AGM
Meeting with the Seniors Advocate Isobel Mackenzie
Partnership Alliance with Change Day BC Make your pledge today!
As you can see, the LPNABC is continually working for LPNs in BC. We are all volunteers, all working LPNs. You have a choice to support your association with your membership; $30/yr is minimal when you consider the work we do on your behalf. It is our hope you will see value in the work we do and support the association with membership.