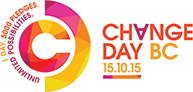 The LPNABC is excited to be partnering in Change Day BC, October 15, 2015 and extending a challenge to all of our members to commit to making a change or trying something new to indicate their commitment to changing care for the better. Spread the word at your worksite, child's day care, anywhere you can make a change. Some of the previous pledges include things like:
Spending a day in a hospital bed to better understand the patient experience.
Introducing oneself by name to patients, residents or clients – a relatively little thing that can positively affect a patient's experience (and resulted in the global movement #hellomynameis)
It's as easy as recording your pledge online at changedaybc.ca and acting on that pledge. Pledges can be big or small. They can be related to any topic of your choice. They are voluntary and a personal commitment to changing care for the better. Even seemingly small pledges can have a positive effect. When combined with all of the other pledges, we can create a tremendous wave of improvement that ripples throughout our organization and system.
So now the question is… what will you pledge? Join the campaign at www.ChangeDayBC.ca. 1 Day. 5000 Pledges. Unlimited Possibilities.
Change Day BC is online at www.ChangeDayBC.ca, Instagram as ChangeDayBC and Twitter with the account @ChangeDayBC and hashtag #ChangeDayBC.
CHANGE DAY BC INFO
GettingStarted
Media Release
CDBC Backgrounder