Together in collaborative discussions LPNABC, RPNAO, Barb Mildon, Canadian Nurses Association (CNA) President, and Rachel Bard, CNA Chief Executive Officer, recognized the need to be working together to represent all nursing groups.  Further to those discussions LPNABC & RPNAO, the standing members of PN Canada, then made an application to CNA under the Canadian Network of Nursing Specialties as an Emerging Group. 
PN Canada was notified on November 20th 2013 that the application was approved by the Canadian Network Board members and the approval was announced at the CNA board meeting on November 25th.
This historic announcement marks the first time Licensed Practical Nurses and Registered Practical Nurses have had the opportunity to be members of the Canadian Nurses Association (CNA); please follow link to read more about this wonderful accomplishment:
CNA – Canadian Network of Nursing Specialties – Emerging Group (see letter of acceptance attached)
LPNABC and RPNAO members are now automatically members of CNA through their PN Canada membership and more information will be given as this new relationship with CNA further progresses.
PN Canada (formally known as Canadian Practical Nurses Association) has been the national association for both Licensed and Registered Practical Nurses across Canada since 1974 and in 2012 LPNABC & RPNAO (Registered Practical Nurses Association of Ontario) reorganized PN Canada.
RPNAO has over 7,700 RPNs as voluntary members of their provincial association and LPNABC has seen substantial recent growing memberships as well. Together they have worked very hard in re-establishing the national Practical Nurses Association as both organizations recognize the importance and value of a national body to represent LPNs and Registered Practical Nurses at policy development levels through a collaborative voice.
The LPNABC and RPNAO are delighted to make this collaborative announcement and would like to thank everyone involved in making this declaration possible.
Sincerely,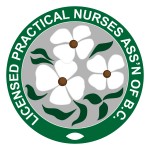 Michelle Devia, LPN, President, LPNABC
Teresa McFadyen, LPN, 1st Vice President, LPNABC
Brenda Mundy, RPN, President, RPNAO

Dianne Martin, RPN, RN, BScN, MA, Executive Director, RPNAO